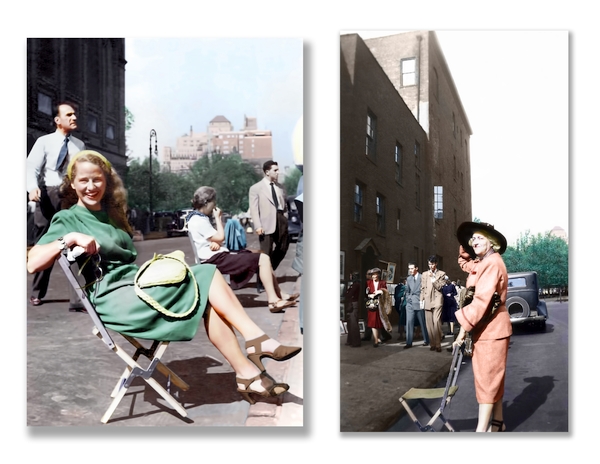 Click to view a High Resolution image
The painters that have inspired me are numerous. They interwove with my life. DeKooning, Picasso, Matisse, Cezanne, Duchamp, Motherwell, Kahlo, Schnabel, Krasner, Keifer and Richter fall well in that arena. Their images strong and true, hovering in my imagination. Their painterly images forever visible, keeping the light on full as the painters on the sunset.
I can go back to my childhood viewing the countless paintings on the walls of our house. Works by the artists of my family and others that opened my eyes to the possibility of becoming a painter.
This page is dedicated to their paintings and drawings and especially to my mother, Bernice (Hesslein) Erickson (above left) and my grandmother, Blanche (Nathan) Hesslein (above right). Photographs by Alfred Eisenstaedt of Life Magazine - New York City - 1941.
Also here are works by my father, Ernest Anders Erickson and a gorgeous 1865 graphite drawing "Portrait of Henry James." by my great grandfather, Benjamin Nathan.
Benjamin went to Harvard Law School with Henry James and knew him through-out his life. They both would leave school to pursue their own interests, business for Benjamin and writing for Henry James. Benjamin's detailed graphite portrait of James was done when they were both in their twenties, a year after James had his first short story, "A Tragedy of Error," published in 1864.
Read more on Henry James here
Paintings by Elena Erickson
Very pleased to exhibit paintings by my wife, Elena Erickson along with our collaborative paintings (The Pop Abstraction and Cartoonesque series) we began in late 2015.
I am honored to have the collaboration by the painter John Grillo (from Wellfleet, Massachusetts) and myself that we completed in my studio in Oakland, when John was out west in 2002.
Most of the elements were derived from pieces of a 1940s collage painting by Grillo, with additional new painted paper pieces we added in the studio together.
After being discharged from the Navy in 1946, Grillo came to San Francisco, where he studied at California Institute of the Arts (now the San Francisco Art Institute). At the time, the art school was the center for radical abstraction and Grillo learned from some of the best artists of his day, most notably Richard Diebenkorn. Though Grillo stayed in California for just two years before moving to New York in 1948, he is considered one of the most important Californian Abstract Expressionists.
His work can be found in collections around the world, including in the Metropolitan, Guggenheim, and Whitney Museums in New York and the British Museum in London. Known for using vibrant colors & innovative, lush layers, John in the early days, was often compared to Jackson Pollock & Willem de Kooning. read more on John Grillo here
The works here were created in New York City; Provincetown and Wellfleet, Massachusetts; San Francisco, Oakland, Hollywood & Venice, California, spanning an incredible period between 1865 up to the present.
My family are often on my mind and their images linger on in my work and thoughts. Without them, for obvious reasons and the sublime ones, I would not be a painter.