My Great Uncle Ernest Julius Alfred (Ersson Eriksson) Erickson was born in Torpshammer, Sweden on June 7th, 1889 and emigrated from Sweden with his parents, Anders Alfred and Brita Kristina (Olofsdotter-Andersson-Olson-Sundin) Ersson Eriksson and siblings in 1903 when he was 14 years old.
Brita Kristina was born in Stöde Västernorrlands län, Medelpad, Sweden on December 28th, 1864 and Anders Alfred was born in Kopparberg, Örebro, Sweden on May 21st, 1860. They both grew up during the reigns of King Charles XV (Karl Ludvig Eugen) & Queen Louise (Wilhelmina Frederika Alexandrine Anna Louise) of the Netherlands and then till their last days living in Sweden, King & Queen of Sweden & Norway Oscar II (Oscar Fredrik) & Sophia of Nassau (Sophia Wilhelmine Marianne Henriette).
By the time the Erickson Family arrived, Theodore 'Teddy' Roosevelt had been elected Vice President of the United States along with William McKinley being elected President in 1900. Upon the assassination of McKinley in September of 1901, Roosevelt was sworn in as the nation's 26th President on September 14th, 1901.
President Roosevelt had a ranch, near the town of Medora, North Dakota, named Elkhorn since 1884, that he visited throughout his life. Stories of President Roosevelt in the Dakota's were prevalent throughout the early years of the Erickson's arrival in North Dakota and specific tales of Roosevelt's Western days and of course his late 1890s 'Rough Rider' years would end up inspiring the young Erickson boys as they grew up.
After the Erickson Family's arrival in New York Harbor and afterwards passing through the gauntlet of the Ellis Island immigration steps, they began their American journey through New York City and bee-lined their way to Grand Central Station.
By rail, the Family began another arduous journey traveling across the mid section of the country and up through the Northern Plains to North Dakota to rejoin Anders' brother Frederick (Ersson Eriksson) Erickson. Frederick had emigrated from Sweden a few years before and he and wife his Family had a farm in Slaughter, North Dakota.
Ernest Julius had 3 brothers, Frank (Frans) Gustaf Severin, Anders 'Andy' Filomon, Erick Olaf Helmer and two sisters, Abby (Ebba) Kristina (Lincoln) and Vera (Elvira) Alfrida (Gallager), all born in Sundsvall or Torpshammer, Sweden.
A seventh child, a son, would be born in Bismarck in 1905, Alphons Alcassar Frederick Erickson. Ernest Julius at 28 years of age and his brother, my Grandfather Frank at 25 years of age, joined the (A.E.F.) American Expeditionary Force in the fall of 1917 and both trained at Camp Lewis near Tacoma, Washington.
Ernest Julius had been writing for years, poetry and keeping busy in multiple journals. His 'Forest of Argonne Journal' begins in September of 1918 was a war journal, one he took along with him once the Meuse Argonne Offensive commenced on September 25th, 1918.
By the time he and the 361st Infantry, were sent overseas in July of 1918 after months of training at Camp Lewis, he was now Pfc. Ernest Julius Alfred Erickson. At this point of his life he was trying to make sense of it all. It seems war had been partly on his mind in his past, as he had transcribed in 1913 in his journal, a poem by Arthur Stringer called, 'War' written in 1907 from Stringer's poetry book, 'The Woman in the Rain and Other Poems.' The poem transcribed by Ernest 5 years before turned out to be prophetic.
War
From hill to hill he harried me
He stalked me day and night
He neither knew nor hated me
Nor his nor mine the fight,
He killed the man who stood by me
For such they made his law
Then foot by foot I fought to him
Who neither knew nor saw,
I trained my rifle on his heart
He leapt up in the air
The screaming ball tore through his breast
And lay embedded there,
Lay hot embedded there, and yet
Hissed home o'er hill and sea
Straight to the aching heart of one
Who'd wronged not mine nor me.
There were three previous diary entries in other journals by Ernest Julius that were quite stunning in their simplicity and also important in their approach to what was happening at the time in his life in the Spring and Summer of 1917. These were prior to when he and Frank joined the A.E.F. as world events began to affect the two brothers out West.
Saturday April 7th, 1917
War was declared with Germany yesterday. Camping is the life.

Tuesday June 5th,1917
Went and signed up for Uncle Sam today, so if he wants me I'm ready to go. Tuesday August 21st, 1917 Have been working steady these days, Deputying on the railroad, lots of walking. I got a notice from the exemption board to be ready to leave when notified. So everything is now settled out. I am sure glad nothing to worry me anymore and I feel that I am pretty lucky to be able to go into Army. I will probably come out a different man, would like to change my ways.


I have always considered Ernest Julius's writings were written for self-analysis and casual musings to bide the time. I suspect he let his Brother Frank read them as they were very close to. The words come from silence of the many years that have passed and exist for us to read, finding meaning like any mystery one wants to solve.
His journals/diaries fell in the hands of his younger brother Frank, after the war, as he had sent a trunk of all his belongings home to the Family farm in Regan, North Dakota, before he left Camp Lewis for the Western Front. From there to Bismarck where my Grandparents lived from the 1930s onward.
Then in the mid 1990s, when my Grandmother Clara (Klara) Amelia (Nilsson Nelson) Erickson passed away, everything passed onto Frank's son, my father Ernest Anders, who was Ernest Julius's namesake. It was my father who made it a point in awakening me to the life of his Uncle and through the many photographs and writings his life has become intriguing and meaningful.
Ernest Julius was no doubts someone we both wished we had the opportunity to have known. It is in his words and photographs of him from a young boy to the soldier who ended up scurrying around the battlefields of France in 1918, that bring back to life for us to imagine, and considering, a life of what could have been.
In the late Fall of 1917, the two brothers would be reporting for their military service with the 'American Expeditionary Force' and both would do their combat training at Fort Lewis, near Tacoma, Washington. In July and August of 1918, Frank and Ernest Julius were sent overseas to France for their combat duty on the 'Western Front,' serving with the 308th Infantry and the 361st Infantry respectively. But before all that mayhem they would be both encountering, the two brothers were out where they loved to be, hunting and fishing in Nature. One last trip, one last Deer Hunt up to Mt. Baldy in Oregon, before, as best buddies and brothers, they would be off to war and separated.
Ernest Julius headed overseas one month before Frank. Once in France they would take part in the last offensive of the war, 'The Meuse Argonne Offensive.' Frank would be a very fortunate survivor of what was called 'The Lost Battalion,' the worst hellish nightmare the American Forces faced during their short time serving in France. Frank was awarded a 'Silver Star' for his actions as a 'Runner Rifleman' with his Company H. Later he was recommended for 'The Congressional Medal of Honor' by his home state North Dakota Governor and US Senator.
Ernest Julius was with Company H of the 361st Infantry of the 91st Division and was in the intelligence section of the First Battalion through both Argonne drives in the Fall of 1918. He had also been a scout, sniper, observer and runner and was a long-time expert rifleman starting at a very young age. As his Commanding Officer stated, "one of the gamest men in the regiment and one of the most willing."
Ernest Julius Erickson found himself along with his regiment in the midst of the Battle of the Argonne Forest, in what would be referred to as The Meuse Argonne Offensive located on the Western Front in France. It was fought from September 26th 1918, until the Armistice on the the 11th of November, 1918, a total of 47 days.
The Meuse-Argonne Offensive was the largest in United States military history, involving 1.2 million American soldiers, and was one of a series of Allied attacks known as the Hundred Days Offensive, which brought an end to the war. The battle cost 28,000 German lives and 26,277 American lives, making it the largest and bloodiest operation of World War I for the American Expeditionary Force (A.E.F.), which was commanded by General John J. Pershing.
Ernest Julius wrote these words in dangerous situations, yet having his own unique take in these dire circumstances. I can only imagine what it was like to be stuck down in a cold muddy exposed trench, writing these thoughts as battles raged, sniper fire sounding and German artillery soaring overhead and oftentimes, exploding far too close for comfort. He begins his writing one morning on the 26th of September of 1918.
Morning of September 26th 1918
We marched all night to a position from where we could follow up the heavy artillery barrage which was just put down on the enemy position for five hours. at 5:30 a.m. we started out crossing the enemy lines without any opposition, until noon when we were held up by machine gun fire by the enemy. Cleared up the woods in a few minutes and took some prisoners, then marched and were held up again upon reaching the open space at a farm - where we lost a few men by artillery fire. We reached our objective but had some stiff fighting that we ran into.


September 27th
Snipers and machine gun nests which caused us some delay. dug in for the night. took up the march again, but ran into some more machine gun fire and snipers which were placed in an orchard round a small village. Here is where we had the worst opposition. First battalion was in the lead and showed that they were real fighting men.

September 28th
Could not go back to previous position today as the enemy artillery had the place under fire. Had to fall back to last night's camp, but did not lose any personnel. took up the fight again later and gained ground with stiff fighting. A few small losses of men and gained our objective.

September 29th
Took some more ground and arrived at the Huns strong point and had a hell of a time to get them out.

September 30th
Went through the woods and have halted. men are pretty well worn out. Enemy are shelling this woods all the time. We have not advanced anymore, Huns still shelling the place

October 1st
We have not advanced anymore, Huns still shelling the place

October 2nd, 1918
Had one of the stiffest shell fires since we started. Lost a few men in the woods

October 3rd
No gain against the Hun. Guns still working on this place, but doing little damage. Our kitchen arrived day before yesterday. Had hot coffee for the first time since we started and I say it was not hard to take.

October 4th - 4pm
Still here and listening to the music of the Hun guns. Hell has turned loose for certain. me and my pal Kune have been in our hole face down waiting for the big one with our name and address on it, but evidently Fritze does not know our names yet. One shell struck a dug out only about eleven feet from ours, killing one and one badly wounded. took the wounded back to first aid and going through the woods I would not have given 2 cents for the four of us that carried the mangled back, for again hell opened up its doors for us. our road was lit up with bursting shrapnel, but got through without a scratch.

October 4th - 7:30pm.
Got relieved, but we were halted in the woods when we were again shot to pieces, that's where I got my first taste of shrapnel. Received a small bruise in the back which did not feel good, thought I was wounded bad, but came to find out it was not all that bad. It was that first blow to the back, what put me out.

October 5th
We are now back of the Huns and it seems good to be back to where the big shell are not falling. Also got a letter or two from home which makes things so much brighter.

October 6th
Got cleaned up and feel so much better. How much nicer it is to be back of the big guns than it is to be in-between them. It always makes things more pleasant when you can hear the shells go over you and towards the enemy than when they come your way. For then you do not know when one of those big ones may take a fancy and want to get in the same hole as yourself. There sure is not room for the both of you and in all, as most cases you go out in pieces.

October 7th
Moved our camp back a few hundred meters. We were all hoping that they would take us back to same billet, but not yet. Had a letter from the best girl in the states yesterday which makes all the world smile so much brighter.

October 8th
This is the date we were moved back. Thinking that we was going to get a rest. but was again called to the line. Marched all night in a freezing rain and the vicious mud sure sticks to a man's feet.

October 9th
Got to our destination this morning. all tired out. The Huns sure sent down a heavy barrage behind us, and later in morning amongst us. We did not lose many men. We are now in support of the Engineers which advanced a short distance. S

(with that 'S' the Diary ends suddenly, the 'S' forever hinged on the edge of time)
Unfortunately for Ernest Julius and his Family back in North Dakota, he was killed on the battlefield the following day after his last entry in his journal, by a German sniper on October 10th, 1918 while in action in the Argonne Forest. Ernest Julius, along with another soldier of Company C, Pvt. Jesse A. Keene had been given orders to deliver a message to the commander of Company B of the 362nd Infantry. The men were uncertain of the 362nds location, yet they were well underway when they came under attack by a lone sniper fire.
Both men attempted to run for cover, when Ernest Julius was shot. Pvt. Keene witnessed his partner getting hit and laying motionless for 5 minutes on the ground out in the open. Pvt. Keene then withdrew and headed back to report the incident to his Company commander. At some point later Ernest Julius's body was retrieved and over time, through many hurdles his body was brought back home to Dakota.
Documents related to Ernest Julius's final return to the States and eventual internment at Riverview Cemetery in 1937 in Wilton, North Dakota bare forth a rather unfortunate drawn out journey. The first document that caught my eye in my father's archives covers the return of Ernest Julius's body from where he was killed in the Argonne Forest in France, then interned in the Meuse-Argonne American Cemetery then being disinterred and the casket sent to Antwerp, Belgium by rail.
From there the casket was placed aboard the Steamer Wheaton on August 6th, 1921 for a trip across the Atlantic, followed by an arrival at the Brooklyn Harbor a week later and then again by rail the casket arrived in Proctor, Vermont.
The paper document I have is the official US Military 'Application for Headstone' and it reveals the date his body was shipped from Proctor, Vermont and arrived in Wilton. Ernest had been placed in an unmarked grave in the meantime until his Headstone from the Army arrived.
That is a sixteen year difference from the date when Ernest's body arrived on the East Coast in Vermont in 1921 from Antwerp (a three year gap from the date he was killed in France on October 10th, 1918) and then the final arrival of the Headstone at Riverview Cemetery in Wilton. One has to wonder what truly became of Ernest Julius between October 10th, 1918 and 1937. This is just another mystery that will go forever unsolved.
In the Spring of 1937, the Family congregated at Riverview Cemetery in Wilton, North Dakota for Ernest Julius's much delayed funeral. The Headstone finally in place (Photo attached below). Everyone was there, including my Father Ernest Anders at fifteen years of age, his Uncle he was named after and never had the fortune of meeting.
I have all the journals of Ernest's diaries that are known to exist. In the April of 1952 Missouri River flood, my Grandparents house in Bismarck ended up with four feet of River water up the window level. A story often told to me by my Grandparents, belongings were floating out the windows and precious items were lost. Some of Ernest Julius's belongings were part of that. What I do have of Ernest Julius's things have enlightened me to who he was and what he may have become if he had made it back to Dakota in 1919, like my Grandfather Frank, who was fortunate to achieve in April of 1919.
Over the years I have thought of Ernest Julius and like my father, we both have been affected by this man's life. His stories were fascinating, the dozens of photographs now classics in my mind and now, well over a hundred year ago, these tales and images of the late 19th Century and early 20th Century, they have become even more important to me.
Sometimes in-between the lines of his sentences become even more compelling, as in my mind, I continue the writing, and in that, being him out there somewhere experiencing life beyond his last day of October 10th of 1918.
For it is in that, for eternity, one of those 'what ifs,' what if he had kept writing, what if he had come home to the Farm in Regan, North Dakota. Would he and his Brother Frank had headed back out West, continuing their search for land and a new life along the Pacific.
Ernest Julius was the true family spirit, living on in his words and photographs he left behind and the rest is for us to imagine. I will continue to find out as much as I can about him. Ernest Julius' life was cut short with all the promise of any young man. All I can do is make sure his spirit will live on, for however long the god's of history and storytelling allow.
Just the same, thanks to Brother Frank Ernest Julius Erickson September 26, 1917 Mount Baldy, Oregon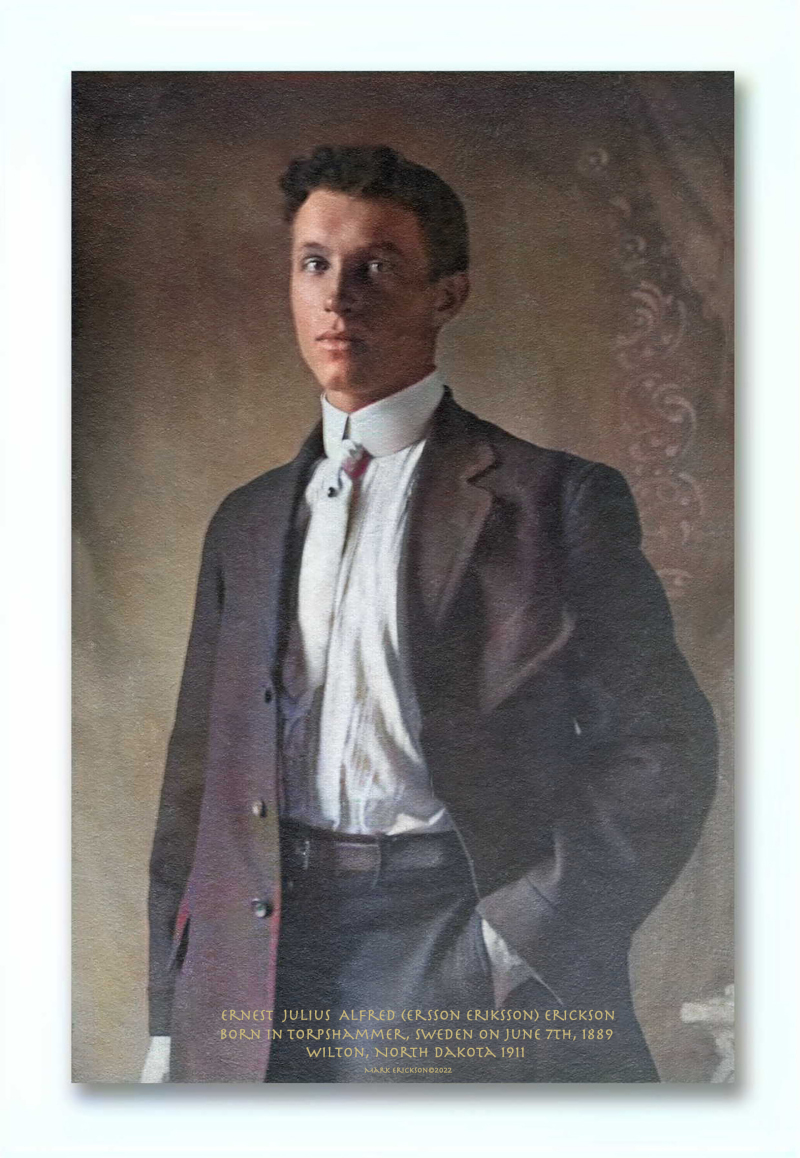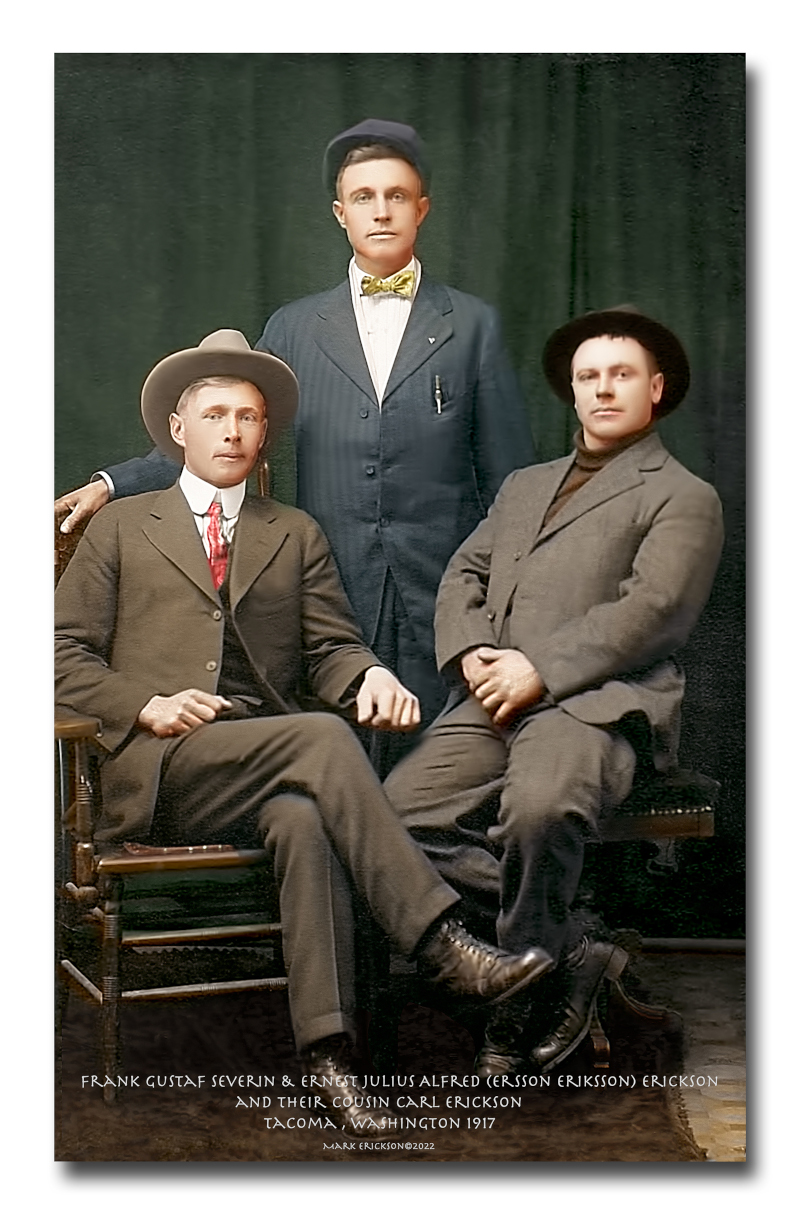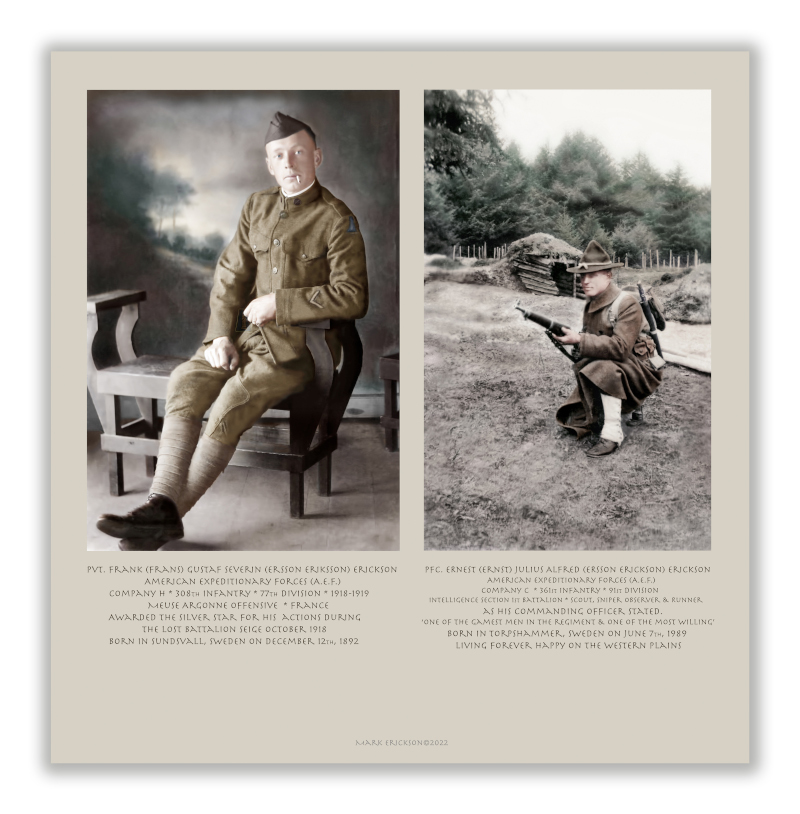 © Mark Erickson 2023 All rights reserved.

This copyrighted material may not be republished without permission.
Contact via Email @ Mark Erickson or visit his website @
http://markerickson.com/Family_History
Links are encouraged.